In 2007, Moving the Lives of Kids Community Mural Project's Kyle Holbrook co-produced a mural with local youth artists at the Tupac Memorial Museum.
Inside The Tupac Center Vandalism - Article from XXL Magazine
So tell us about this event you're planning to address all the madness.
On November 10, we're having our second film screening this year. The first one we had brought a really great response. We had Alpha Tyler [the Atlanta-based casting director for Tyler Perry's House of Payne TV show] come out to the first screening. She was able to see Pac's Kids, our kids program where we train them in singing, dancing and acting. One of our Pac's Kids students, Kyre Batiste-Loftin, is now one of the new characters on House of Payne. We had Roderick Thomas, who played Paul in Stomp the Yard, and he was also in The Gospel. At our second film screening event we're gonna have them come out again. Jay Braxton, an entertainment attorney in Atlanta, is coming out.
They will talk to the youth about film careers and breaking ground. We're gonna show trailers of all Pac's movies, but the first thing we're doing that day is a re-dedication of the Peace Garden. It will be a public re-opening and a salute to all the loved ones who passed. A live community mural will be produced, initiated by Kyle Holbrook, who's coming down from Pittsburgh as part of the dedication. This is his donation to the project.
We're gonna have libations. We're showing two movies: Love and Basketball and Remember the Titans and also we're having a panel on sports and education where people will come out and talk about sports-driven foundations and how they're helping the community. Afeni Shakur will be there. We're just letting everybody know that we're still fighting and the vandalism is not stopping us.
Mural at: KIDS 'KADEMY INC is a Child Care Learning Center in LITHONIA GA. It has maximum capacity of 81 children. The center accepts children ages of: Infant, Toddler, Preschool, School-age.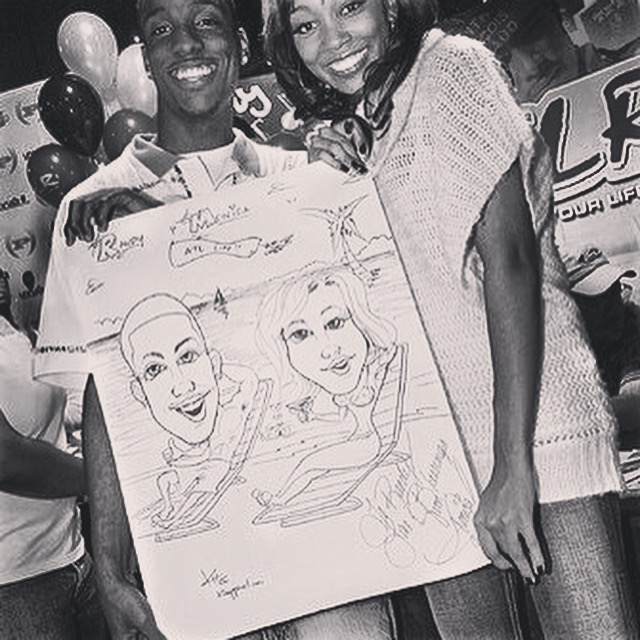 Monica gets a Kyle Holbrook caricature
For Sisters Only event for Womens empowerment.